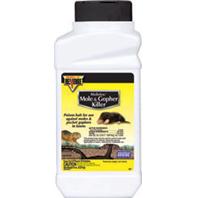 Note: This product is restricted to CA,DC,NH. 
Poison bait for use against moles and pocket gophers in lawns and other non-crop areas. Also used to protect bulbs at fall planting. Only apply bait underground, 1 teaspoon treats an active burrow or tunnel. Must be applied to an active tunnel. Made in the USA.
Active Ingredient: Zinc Phosphide 2.0%
Bonide Products - Moletox Ii Mole & Gopher Killer--8 Ounce product is categorised under Wholesale Bonide Products Inc products, Wholesale Garden Supplies, Wholesale Lawn & Garden, Wholesale Animal & Insect Control.