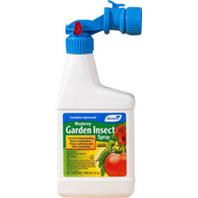 Note: This product is restricted to DC.
Bacterial product produced by fermentation, can be used on outdoor ornamentals, lawns, vegetables, fruit trees and more.. Can be used to control fire ants in lawns and other outdoor areas.. Fast-acting and odorless.. Contains spinosad..MADA IN USA
Monterey -Monterey Garden Insect Spray Ready To Spray-16 Ounce product is categorised under Wholesale Monterey Lawn and Garden products, Wholesale Garden Supplies, Wholesale Lawn & Garden, Wholesale Fungicides/Repellents.