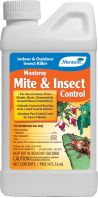 For use on lawns trees shrubs roses ornamentals around house foundations. 4 month control of roaches ants listed insects indoors. Outdoor pest control lasts for up to 6 weeks. indoor and outdoor insect killer. .
Bifenthrin and other ingredients
Monterey - Monterey Mite & Insect Control Concentrate - Pint product is categorised under Wholesale Monterey Lawn and Garden products, Wholesale Garden Supplies, Wholesale Lawn & Garden, Wholesale Animal & Insect Control.