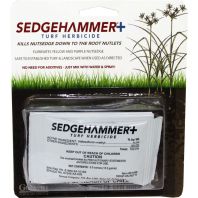 Kills nutsedge down to the root nutlets. Eliminates yellow and purple nutsedge. Safe to established turf and landscape when used as directed. No need for additives just mix with water and spray!. .
Halosulfuron-methyl and other ingredients
Monterey - Sedge Hammer Plus Concentrate - .5 Oz product is categorised under Wholesale Monterey Lawn and Garden products, Wholesale Garden Supplies, Wholesale Lawn & Garden, Wholesale Chemical Herbicides.