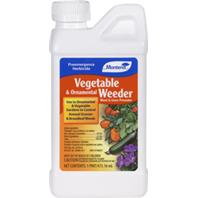 Note: This product is restricted to DC,WA.
Pre-emergence herbicide for the control of grasses and broadleaf weeds in trees, shrubs, flowers, roses and more.. Prevents weeds for up to 5 months.. Very economical weed control.. Can be used in vegetable gardens to prevent weeds - one of the few weed killers a homeowner can use in their veggie garden.MADA IN USA
Monterey -Monterey Vegetable & Ornamental Weeder Concentrate-16 Ounce product is categorised under Wholesale Monterey Lawn and Garden products, Wholesale Garden Supplies, Wholesale Lawn & Garden, Wholesale Chemical Herbicides.