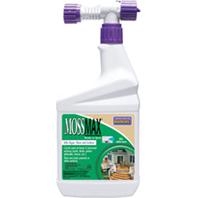 Note: This product is restricted to DC,HI.  
Fast acting water based, multi purpose formula. Ready-to-spray formula, attach to garden hose and spray, no mixing required. Does not stain concrete or other surfaces. One quart treats up to 500 square feet. Works within hours to kill moss, algae, and lichens on lawns, trees and structures also removes green slime. Made in the USA.
Potassium Soap Of Fatty Acids - 22.11%
Note: This Product is restricted in DC, HI
Bonide Products - Mossmax Lawn Moss Killer Ready To Spray--1 Quart product is categorised under Wholesale Bonide Products Inc products, Wholesale Garden Supplies, Wholesale Lawn & Garden, Wholesale Animal & Insect Control.