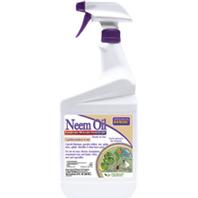 Insecticide, fungicide and miticide in one. Approved for organic gardening. Bio-pesticide derived from neem tree seed. Use on virtually all plants- roses, flowers, shrubs, vegetables, fruit, trees, houseplants and turf. Kills all insect stages of growth. Made in the USA.
Clarified Hydrophobic Extract Of Neem Oil
Bonide Products - Neem Oil Fungicide Miticide Insecticide Rtu--1 Quart product is categorised under Wholesale Bonide Products Inc products, Wholesale Garden Supplies, Wholesale Lawn & Garden, Wholesale Animal & Insect Control.