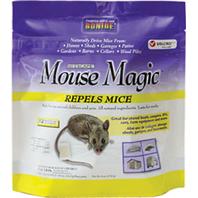 Note: This product is restricted to DC,IN,NM. 
All natural ingredients repel mice from homes sheds patios and other hiding places. Locate place packs anywhere mice enter feed or nest. Convenient place packs repeat for up to 45 days. Safe for use around children and pets. Biodegradable. Made in the usa
Peppermint Oil And Spearmint Oil
Bonide Products - No Escape Mouse Magic Ready To Use Place Packs--12 Pack product is categorised under Wholesale Bonide Products Inc products, Wholesale Garden Supplies, Wholesale Lawn & Garden, Wholesale Animal & Insect Control.