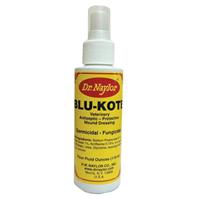 • Fast Drying Antiseptic and Fungicidal Liquid For Surface Wounds, Abrasions and Ringworm. In A Spray Pump Applicator
• Treats Fungus Infections, Surface Wounds, Cuts, Galls, Chafes, Abrasions, Moist Lesions, Itchy Fungus, Eczema and Sores
• Clean and Dry Affected Area
• In Case Of Serious Burns Or Deep Wounds, Consult A Veterinarian
• Apply Blue-Kote With Attached Applicator Morning Or As Required
Ingredients:
Sodium propionate, gentian violet, acriflavine, in a special base of water, urea glycerine, isopropyl alcohol.
Naylor - Dr. Naylor Blu Kote Pump - 4 oz product is categorised under Wholesale Naylor products, Wholesale Pet Products, Wholesale Livestock Supplies, Wholesale Cattle Products, Wholesale Health Care, Wholesale First Aid.