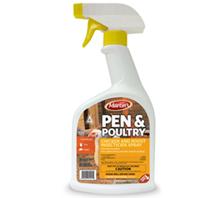 Note: This product is restricted to AK,DC. 
Chicken and roost insecticide for control of lice and mites. For use on poultry and in and around animal housing. Ready-to-use. Convenient two-setting sprayer: stream for spraying roosts, and fine mist for spraying directly on poultry
Ingredients:
Permethrin 0.50%
Control Solutions - Pen & Poultry Chicken & Roost Insecticide Spray - 1 Quart product is categorised under Wholesale Control Solutions products, Wholesale Garden Supplies, Wholesale Lawn & Garden, Wholesale Fungicides/Repellents.