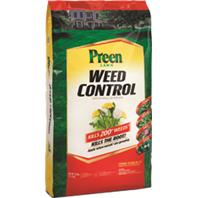 Note: This product is restricted to HI,TX. 
Controls a wide range of lawn weeds including dandelion, chickweed, knotweed, plantain, etc.. Can be applied anytime weeds are growing, spring, summer or fall. Will not burn lawn when used properly. Made in the USA
Ingredients:
1.37% Dichlorophenoxyacetic Acid Equivalent, .31% Propionic Acid, .13% Dicamba.
Greenview - Preen Lawn Weed Control Granules - 15000 Sq Ft product is categorised under Wholesale Greenview products, Wholesale Garden Supplies, Wholesale Lawn & Garden, Wholesale Chemical Herbicides.