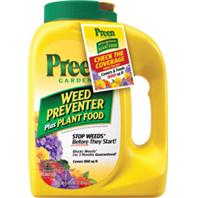 Note: This product is restricted to CA. 
Kills weeds and fertilizes. One easy application prevents weeds up to 3 months. Fertilizes plants for beautiful color, foliage and strong roots. Can be used anytime during the spring, summer or fall. Use in flower and ornamental garden beds, around ground covers, trees and shrubs. Made in the USA
Ingredients:
Contains Treflan Herbicide, 10-17-9 Fertilizer Of Nitrogen, Phosphorous, And Potash.
Greenview - Preen Weed Preventer & Plant Food Fertilizer - 900 Sq Ft product is categorised under Wholesale Greenview products, Wholesale Garden Supplies, Wholesale Lawn & Garden, Wholesale Chemical Herbicides.