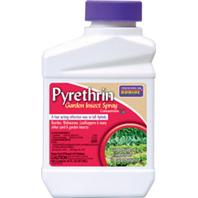 Note: This product is restricted to CA,DC. 
This formulation of naturally occurring pesticides is perfect for organic gardeners. Controls many insects on fruit, vegetables , ornamental flowers and trees. May also be used as a flea, tick and lice spray for dogs. Labeled for the control of fire ants using the mound treatment method. Controls colorado potato beetle, japanese beetles, squash bugs, box elder bugs, sawfly larva and many more. Made in the usa
Rotenone 1.10% W/W Other Cube Extractives 2.20% Pyrethrin .80%
Bonide Products - Pyrethrin Garden Insect Spray Concentrate--1 Pint product is categorised under Wholesale Bonide Products Inc products, Wholesale Garden Supplies, Wholesale Lawn & Garden, Wholesale Chemical Pesticides.