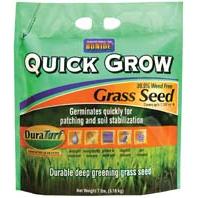 Mix of fastest growing annual rye grass & named variety perennial rye grass for fast germination & perennial coverage. Fast growing for temporary repairs and erosion control.
Gulf Annual Ryegrass, Named Perennial Rye, Transam Transitional Ryegrass
Bonide Products - Quick Grow Grass Seed--7 Pound product is categorised under Wholesale Bonide Products Inc products, Wholesale Garden Supplies, Wholesale Lawn & Garden, Wholesale Fertilizers & Plant Food.