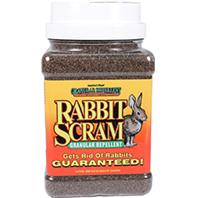 Protects up to 1,350 square feet. A green solution to rabbit damage. All organic - no bad odor!. Won t hurt animals or the environment. Long lasting.
Dried Blood, White Pepper, Garlic, Cloves, Meat Meal
Enviro Protection Ind-Rabbit Scram Granular Repellent-2.5 Pound product is categorised under Wholesale Enviro Protection products, Wholesale Garden Supplies, Wholesale Lawn & Garden, Wholesale Fungicides/Repellents.