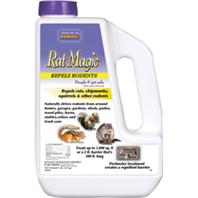 Note: This product is restricted to IN,NM. 
Repels rodents including rats, chipmunks, squirrels and more.. Barrier treatment drives rodents from areas like: houses, garages, gardens, sheds, trash cans, patios, barns, stables, etc.. Perimeter treatment creates a barrier repellent. Treats up to 1,000 square feet.. Use to create a barrier 2 feet wide by 500 feet long.. People and pet safe when used as directed.. Made in the USA.
Castor Oil, Peppermint, Clove And Cedar Oils On A Clay Carrier.
Bonide Products - Rat Magic Repellent--5 Pound product is categorised under Wholesale Bonide Products Inc products, Wholesale Garden Supplies, Wholesale Lawn & Garden, Wholesale Animal & Insect Control.