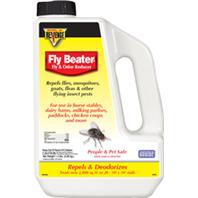 Note: This product is restricted to IN,MN,NM. 
Granular fly repellent works on flies, mosquitoes, gnats, fleas and other flying pests.. Use areas include horse stables and paddocks, dairy barns and milking parlors, chicken coops and more.. Works 2-ways to repel insects and deodorize areas.. Treats over 2,000 square feet.. People and pet safe when used as directed.. Made in the USA.
Citronella, Clove, Cedar Oil On Lightweight Carrier
Bonide Products - Revenge Fly Beater And Odor Reducer--2 Pound product is categorised under Wholesale Bonide Products Inc products, Wholesale Garden Supplies, Wholesale Lawn & Garden, Wholesale Animal & Insect Control.