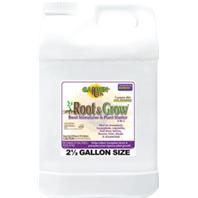 Stimulates early and strong root formation. Reduces transplant shock. Promotes greener, more vigorous plants. Ideal for transplants, houseplants, vegetables, fruit trees, berries, flowers, trees, shrubs and oranamentals.
Nitrogen, Ammoniacal Nitrogen, Phosphate, And Soluble Potash
Bonide Products - Root & Grow Concentrate--2.5 Gal product is categorised under Wholesale Bonide Products Inc products, Wholesale Garden Supplies, Wholesale Lawn & Garden, Wholesale Fertilizers & Plant Food.