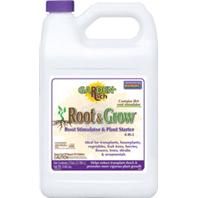 For use on fruit, vegetables, flowers, trees, and bedding plants to stimulate early and strong root development. Contains 3-10-3 fertilizer plus vitamin b-1. Can be used as a starter fertilizer when installing sod. Stimulates early and strong root development. Made in the usa.
3-10-3 Fertilizer And B-1 Rooting Hormone
Bonide Products - Root & Grow Root Stimulator Concentrate--Gallon product is categorised under Wholesale Bonide Products Inc products, Wholesale Garden Supplies, Wholesale Lawn & Garden, Wholesale Fertilizers & Plant Food.