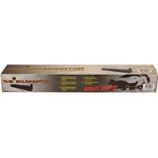 Rugged Ranch - Skunkinator Trap - Black
UPC:
89555900232 (# 073353-103695-SKUNK)
Inside bait box keeps your bait perfectly in position at all times. Automatic catch design no tricky triggers or top plates to set. Low profile design doesn't allow skunk to lift its tail to spray. Quick view top for instant indentification of your catch. Forward door makes for easy release.
Suggested Retail price:

$53.49