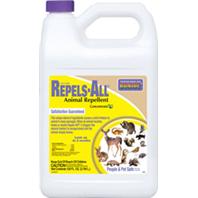 Note: This product is restricted to IN,NM. 
Apply to plants and structures to repel chipmunks, squirrels, birds, rabbits, deer, raccoons and many more up to 2 months. One quart makes 2 gallons of finished spray material. Environmentally safe and biodegradable. Can be used around edible plants. Made in the USA.
Dried Blood, Petrescent Whole Egg Solids, Garlic Oil, Acetic Acid, Potassium Salt, Cloves, Fish Oil, Fuller s Earth, Meat Meal, Onions, Seaweed, Vitamin E, Wintergreen Oil And Water.
Note: This Product is Restricted in IN, NM
Bonide Products - Shot-Gun Repels-All Animal Repellent Concentrate--1 Gallon product is categorised under Wholesale Bonide Products Inc products, Wholesale Garden Supplies, Wholesale Lawn & Garden, Wholesale Animal & Insect Control.