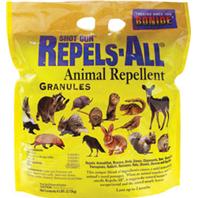 Note: This product is restricted to IN,NM. 
Repels over 20 different problem animals from plants and structures. Use as a barrier treatment around vegetable gardens. Repels birds, dogs, cats. Chipmunks, squirrels, deer, raccoons, rabbits, skunks and more. Repels animal pests for up to 2 months. Organic and biodegradable. Made in the USA.
Garlic Oil, Dried Blood, Putrescent Whole Egg Solids And Many More
Bonide Products - Shot-Gun Repels-All Animal Repellent Granules--6 Pound product is categorised under Wholesale Bonide Products Inc products, Wholesale Garden Supplies, Wholesale Lawn & Garden, Wholesale Animal & Insect Control.