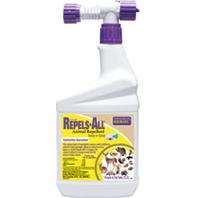 Note: This product is restricted to IN,NM. 
All-natural formula safely repels more than twenty animal pests. Repels by sense of touch, taste and smell. Prevents and stops cribbing. Rainfast in 6 hours and lasts for up to 2 months. Can be used around edible crops. May be used around edibles. Made in the USA.
Garlic, Dried Blood, Whole Egg Solids, Clove, Fish Oil, Onion, Wintergreen
Note: This Product is Restricted in IN, KY, NM
Bonide Products - Shot-Gun Repels-All Animal Repellent Rts--1 Quart product is categorised under Wholesale Bonide Products Inc products, Wholesale Garden Supplies, Wholesale Lawn & Garden, Wholesale Animal & Insect Control.