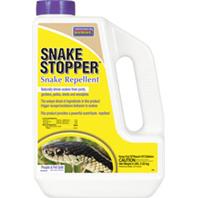 Note: This product is restricted to AK,DC. 
All-natural ingredients repel snakes. Apply 1 lb of product in a band 8 inches wide by 50 feet long. Do not water in after application. Reapply product after heavy rain or every two weeks for best results. Made in the USA.
Clove Oil Cedar Oil Sulfur And Cinnamon Oil
Note: This Product is restricted in AK, DC
Bonide Products - Snake Stopper Snake Repellent--4 Pound product is categorised under Wholesale Bonide Products Inc products, Wholesale Garden Supplies, Wholesale Lawn & Garden, Wholesale Animal & Insect Control.