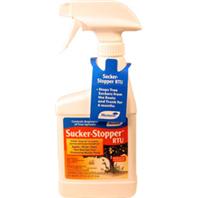 Use to control sprouts and sucker growth on apples, olives, pears, non-bearing citrus and ornamental woody plants. Spray on the base of plant to control regrowth of suckers from roots and pruning wounds.
Ethyl 1-Naphthaleneacetate
Monterey -Sucker Stopper Ready To Use-16 Oz product is categorised under Wholesale Monterey Lawn and Garden products, Wholesale Garden Supplies, Wholesale Lawn & Garden, Wholesale Chemical Herbicides.