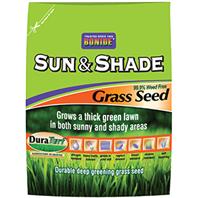 Duraturf mix of premium grass seed. Specially formulated improved turf grass varieties for full sun or shade. Spreads quickly to repair thin and bare spots.
Palmer Iii Perennial Rye, Pennant Ii Perennial Rye, Arc Kentucky Blue, Ambrose Chewings, Epic Creeping Red Fescue
Bonide Grass Seed - Sun And Shade Grass Seed--20 Pound product is categorised under Wholesale Bonide Products Inc products, Wholesale Garden Supplies, Wholesale Lawn & Garden, Wholesale Fertilizers & Plant Food.