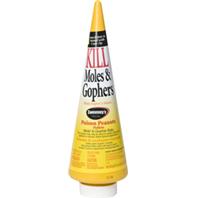 Note: This product is restricted to NH. 
Attracts and kills moles and gophers. For use in underground runways or subsurface feeding tunnels. Easy to use - just drop bait into holes in roof of tunnel. Cone-tip design for punching holes and applying the bait. Not safe for children and pets. Made in the usa
2% Zinc Phosphide.
Senoret - Sweeneys Mole & Gopher Poison Peanuts-6 Ounce product is categorised under Wholesale Senoret products, Wholesale Garden Supplies, Wholesale Lawn & Garden, Wholesale Chemical Pesticides.