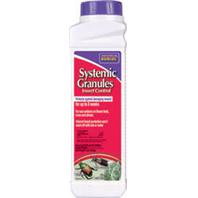 Note: This product is restricted to CT,MD,NY. 
Apply granules to soil at the base of the plant, mix into soil then water-in after application. Provides 8 weeks of protection from: birch leaf minor, scale, whitefly, adelgids, borers and other insects. Systemic-action give total plant protection. He chemical will move into the root area and be absorbed by plant. Made in the usa.
Active Ingredient Imidachloprid. Restricted In The State Of Ny In The 4 Counties Of Long Island
Bonide Products - Systemic Granules Insect Control--1 Pound product is categorised under Wholesale Bonide Products Inc products, Wholesale Garden Supplies, Wholesale Lawn & Garden, Wholesale Animal & Insect Control.