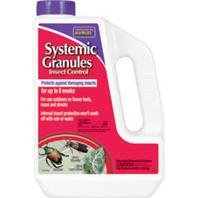 Note: This product is restricted to CT,MD,NY. 
Ready-to-use granules, water-in after application. Provides 8 weeks of protection from: birch leaf minor, scale, whitefly, adelgids, borers and other insects. Systemic-action give total plant protection. Apply granules to soil at the base of plant. Mix into soil, then water - the chemical will move into the root area and be absorbed by plant. Made in the USA.
Ingredients: Active Ingredient Imidachloprid. Restricted In The State Of Ny In The 4 Counties Of Long Island
Bonide Products - Systemic Granules Insect Control--4 Pound product is categorised under Wholesale Bonide Products Inc products, Wholesale Garden Supplies, Wholesale Lawn & Garden, Wholesale Animal & Insect Control.