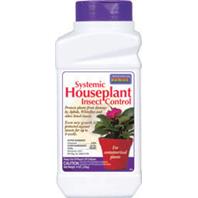 Note: This product is restricted to CT. 
A systemic insecticide that kills insects such as aphids, whiteflies, miners, scales, spider mites and other insects on tree. Convenient, ready to use granules. Apply granules to soil around the base of the plant, mix into top soil then water. The chemical will leach onto root and be absorbed into plant. Can be scattered over planting beds before sowing, setting or transplants. Made in the usa
Active Ingredient Disulfton
Bonide Products - Systemic Houseplant Insect Control--8 Ounce product is categorised under Wholesale Bonide Products Inc products, Wholesale Garden Supplies, Wholesale Lawn & Garden, Wholesale Animal & Insect Control.