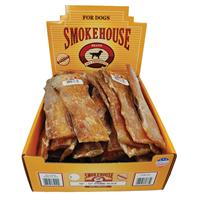 • A Supplemental Treat For Dogs.
• They Are 100 Percent Natural, A Great Crunchy Treat That Will Help Keep Your Dogs Teeth Clean.
• Smokehouse Treats For Dogs Are Natural Hand Cuts That Preserve The Flavors Of The Finest Quality Beef, Pork Or Lamb.
Ingredients:
Beef ligament.
Smokehouse Dog Treats - Usa Made Prime Slice - 10-12 Inch product is categorised under Wholesale Smokehouse Dog Treats products, Wholesale Pet Products, Wholesale Dog Products, Wholesale Food & Treats, Wholesale Treats.