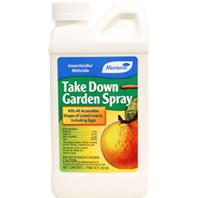 Note: This product is restricted to DC,ND,SD,WY.
Kills all stages of most insects including eggs. Pyrethrins and canola oil concentrate. 16 oz. concentrate.
Pyrethrins, Canola Oil, Other Ingredients
Monterey -Take Down Garden Spray-Pint product is categorised under Wholesale Monterey Lawn and Garden products, Wholesale Garden Supplies, Wholesale Lawn & Garden, Wholesale Chemical Pesticides.