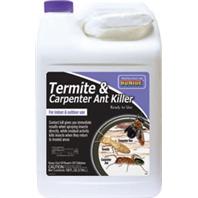 Note: This product is restricted to DC.  
Kills carpenter bees, termites, carpenter ants, cockroaches, crickets, fleas, wasps, bees and many more insects. Can be used as a fire ant treatment, apply to mounds and around the perimeter of the mound. Use as a perimeter treatment to control ants, centipedes, crickets, ground beetles, silverfish, spiders, ticks and wasps. Apply using a sprinkler can, hand sprayer, or low pressure sprayer. Labeled for outdoor surfaces of buildings to control mites, earwigs, sowbugs, ants and more. Made in the usa
Active Ingredient: 13.3% Permethrin
Bonide Products - Termite & Carpenter Ant Killer Concentrate--1 Gallon product is categorised under Wholesale Bonide Products Inc products, Wholesale Garden Supplies, Wholesale Lawn & Garden, Wholesale Animal & Insect Control.