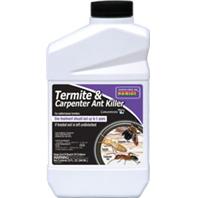 Note: This product is restricted to DC,NY. 
Kills termites, carpenter ants, fire ants, wood-infesting beetles, earwigs, fleas, ticks, wasps and more. Long lasting residual action -- 5 years for trenching applications to control sub-terranean termites. Apply using a sprinkler can, hand sprayer, or low pressure sprayer. Mixture rations vary, read and use according to label directions. Labeled for use on outside surfaces of buildings to control clover mites, earwigs, sowbugs, ants and more. Made in the usa
Active Ingredient: 13.3% Permethrin
Bonide Products - Termite & Carpenter Ant Killer Concentrate--1 Quart product is categorised under Wholesale Bonide Products Inc products, Wholesale Garden Supplies, Wholesale Lawn & Garden, Wholesale Animal & Insect Control.