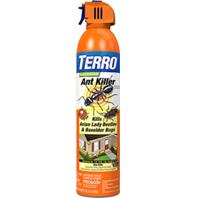 Kills ants, carpenter ants, carpenter bees, asian lady beetles, boxelder bugs and other home invaders. Powerful propellant that delivers barrier spray in hard-to-reach places up to 20 feet away. Provides instant knockdown and long-term control. Ideal as a perimeter barrier around foundations, doors and windows. Made in the usa.
Tetramethrin 0.20%, Permethrin, 0.50%, Other Ingredients 99.30%.
Senoret - Terro Outdoor Ant Killer Aerosol Spray-19 Ounce product is categorised under Wholesale Senoret products, Wholesale Garden Supplies, Wholesale Lawn & Garden, Wholesale Chemical Pesticides.