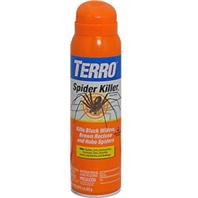 Kills spiders, including black widow, brown recluse and hobo spiders. Kills ants, cockroaches, scorpions, silverfish, asian lady beetles and crickets. Weeks of residual protection. Can be used indoors or outdoors. Made in the usa.
Pyrethrins, Permethrin.
Senoret - Terro Spider Killer Aerosol Spray-16 Ounce product is categorised under Wholesale Senoret products, Wholesale Garden Supplies, Wholesale Lawn & Garden, Wholesale Chemical Pesticides.