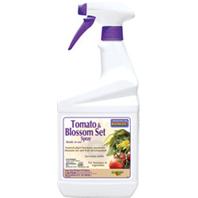 Note: This product is restricted to CA,HI 
Makes blossoms set fruit despite poor weather. Nearly every blossom will produce larger, meatier, almost seedless tomatoes, ripening up to 3 weeks earlier. Also for use on other veg. plants. Contains natural plant growth hormone kinetin. Made in the usa.
Calcium, Calcium Citric Acid
Bonide Products - Tomato Blossom Set Ready To Use--Quart product is categorised under Wholesale Bonide Products Inc products, Wholesale Garden Supplies, Wholesale Lawn & Garden, Wholesale Fertilizers & Plant Food.