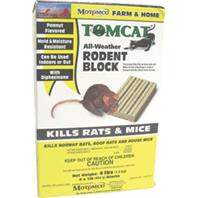 Bar-type bait for the control of norway rats, roof rats and house mice. Block breaks easily into small pieces. Stable, moisture resistant formula for use indoors and out. Kills mice and rats in 4 to 6 days. Made in the usa.
Active Ingredient: Diphacinone 0.005%
Motomco - Tomcat All-Weather Rodent Block-Peanut-4X1 Lb Block product is categorised under Wholesale Motomco products, Wholesale Garden Supplies, Wholesale Made in the USA.