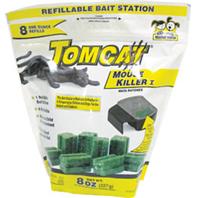 Includes 1 refillable bait station and 8 bait refills.. Resistant to weather, for indoors and outdoors. Child and dog resistant. No touch bait station. Made in the usa.
Active Ingredient: Bromethalin 0.01%.
Motomco - Tomcat Mouse Killer I Refillable Bait Station-8 Refills product is categorised under Wholesale Motomco products, Wholesale Garden Supplies, Wholesale Made in the USA.