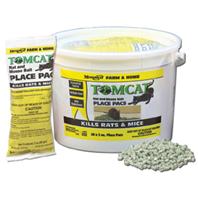 Contains 20 3 ounce place pacs. Kills norway rats, roof rats and house mice. Economical control. Multiple feed. Made in the usa.
Diphacinone (Anticoagulant)
Motomco - Tomcat Rat And Mouse Bait Place Pacs-22 X 3 Oz Pacs product is categorised under Wholesale Motomco products, Wholesale Garden Supplies, Wholesale Made in the USA.