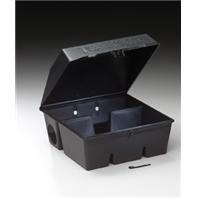 Tamper-resistant station holds bait chunx away from children, pets and non-target species. For indoor and outdoor use. Heavy-duty station. Protects bait from dust, dirt and moisture, so bait stays fresh. Made in the usa.
Tamper -Resistant Bait Station For Rats.
Motomco - Tomcat Rat Bait Station product is categorised under Wholesale Motomco products, Wholesale Garden Supplies, Wholesale Made in the USA.