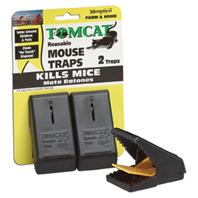 Ideal for capturing the occasional intruder or as a part of a more extensive control program. Easy to work and reusable traps. Safe around children and pets. Clean no touch disposal with automatic reset. Made in the usa.
Patented Interlocking Teeth Makes Escape Virtually Impossible.
Motomco - Tomcat Reusable Mouse Traps-2 Pack product is categorised under Wholesale Motomco products, Wholesale Garden Supplies, Wholesale Made in the USA.