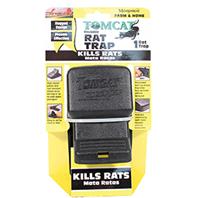 Ideal for capturing the occasional intruder or as part of a more extensive control program. Reusable traps set in one easy motion with your hand or foot. Proven effective and has patented interlocking teeth. Also comes with a removable bait cup. Made in the usa.
Patented Interlocking Teeth Makes Escape Virtually Impossible.
Motomco - Tomcat Reusable Rat Trap-1 Trap product is categorised under Wholesale Motomco products, Wholesale Garden Supplies, Wholesale Made in the USA.