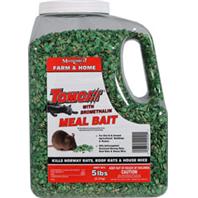 May only be used inside and within 100 feet of man-made structures and for all burrow baiting.. Kills anticoagulant resistant norway rats, roof rats and house mice.. For use in and around agricultural buildings and homes.. Keep out of reach of children.. Made in the usa.
Active Ingredient Bromethalin (Cas #63333-35-7) .01% Other Ingredients 99.99% *contains Denatonium Benzoate
Motomco - Tomcat With Bromethalin Meal Bait-5 Pound product is categorised under Wholesale Motomco products, Wholesale Garden Supplies, Wholesale Made in the USA.