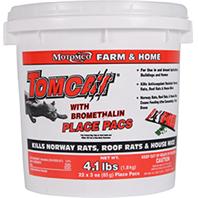 For use in and around agricultural buildings and homes. Rodents stop feeding after eating a toxic dose - more rodents controlled with less bait. Kills anticoagulant resistant norway rats, roof rats and house mice. Made in the USA.
Active Ingredient: Bromethalin. Also Contains Denatonium Benzoate.
Motomco - Tomcat With Bromethalin Place Pacs Pail-22 X 3 Oz Pacs product is categorised under Wholesale Motomco products, Wholesale Garden Supplies, Wholesale Made in the USA.