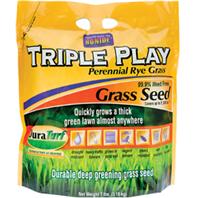 Specially formulated improved turf grass varieties of rye grass. Extremely durable and establishes quickly for erosion control of bermuda grass.
Palmer Iii Perennial Rye, Panther Gls Perennial Rye, Double Time Perennial Rye
Bonide Products - Triple Rye Grass Seed--7 Pound product is categorised under Wholesale Bonide Products Inc products, Wholesale Garden Supplies, Wholesale Lawn & Garden, Wholesale Fertilizers & Plant Food.