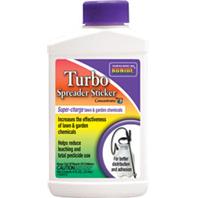 Note: This product is restricted to CA. 
Provides better distribution and adhesion of all types of insecticides, fungicides and herbicides. Spreader-sticker makes the chemical work better to give the desired results. Add turbo spreader-sticker to your spray tank only after other spray materials have been added and mixed. Highly recommended when using liquid and wettable powder pesticides. Mix turbo with 10 parts water, then add finished material to rates described on label. Made in the usa
Combination Of Spreading, Sticking And Penetrate Agents
Bonide Products - Turbo Spreader Sticker Concentrate--8 Ounce product is categorised under Wholesale Bonide Products Inc products, Wholesale Garden Supplies, Wholesale Lawn & Garden, Wholesale Animal & Insect Control.