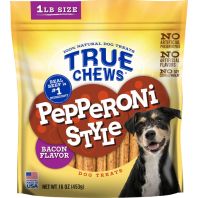 100% natural ingredients. Made in the USA. No corn wheat or soy. No animal by-products. No artificial flavors preservatives or synthetic colors.
Beef chicken ground rice vegetable glycerin gelatin sugar dried citrus pulp natural flavors distilled vinegar salt colored with vegetable juice natural smoke flavors colored with paprika.
Tyson Pet Products - True Chews Pepperoni Style Dog Treats - Bacon - 16 Oz product is categorised under Wholesale Tyson Pet Products, Inc products, Wholesale Pet Products, Wholesale Dog Products, Wholesale Food & Treats, Wholesale Treats.