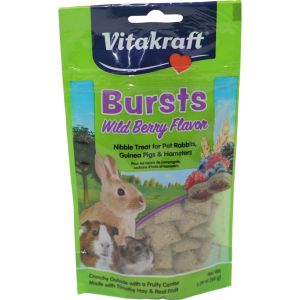 Nibble treat for pet rabbits guinea pigs and hamsters. Crunchy outside with a fruity center. . . .
Corn syrup glycerin oat flour wheat flour ground wheat powdered cellulose ground timothy grass hay wheat gluten blackberry powder blueberry powder raspberry powder ground corn salt.
Vitakraft - Bursts - Wild Berry - 1.76 oz product is categorised under Wholesale VitaKraft products, Wholesale Pet Products, Wholesale Small Animal Products, Wholesale Rabbits, Wholesale Food & Treats.