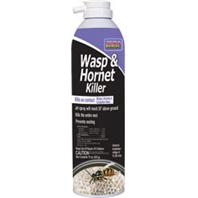 Note: This product is restricted to CA,DC. 
Triple action provides instant knock down, quick kill and prevents renesting for 4 weeks. Kills wasps, hornets, yellow jackets, and bees, including carpenter bees. Jet spray will reach nests up to 20 feet off the ground. For best results spray in early morning or late evening when insect activity is minimal. Hold upright and spray until nest is thoroughly saturated to kill entire nest population. Made in the usa
.1% Tetramethrin, .25% Permethrin, .5% Piperonyl Butoxide Formula. Oil Based
Bonide Products - Wasp & Hornet Killer--15 Ounce product is categorised under Wholesale Bonide Products Inc products, Wholesale Garden Supplies, Wholesale Lawn & Garden, Wholesale Animal & Insect Control.